About

Elgin City Band is one of the oldest brass bands in the country. Although it was re-constituted as Elgin City Band in 1901 under the auspices of the Elgin Town Council, mention of "Elgin City Band" was made in local newspapers as far back as 1858, and it may also have gone under the name of "Elgin Voluntary Band".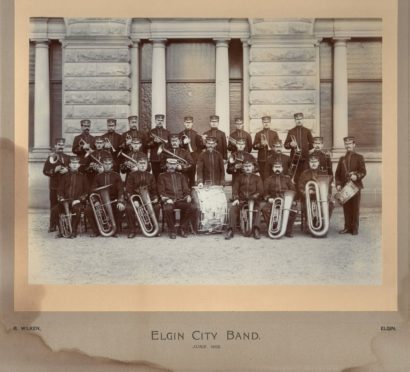 The Band was run by the Town Council (funds to do so were generated by a voluntary donation of an old penny in the pound on rates) and continued under the Town Councils wing until Local Government Reorganisation in 1975, at which time it became independent and has remained as such ever since.
There were occasions when the Band's numbers were so depleted, such as during the two World Wars, that it went into abeyance, but it was always reinstated partly because of the determination of the bandsmen themselves, but also because the Elgin City Band was and still is a part of Elgin and its history.
Elgin City Band had it's own practice hall in Cumming Street between 1924 and 1959 but the building was on occasion taken over as a grain store, soup kitchen and Post Office sorting office, and was also commandeered by the military during the Second World War. Eventually the practice hall was demolished to make way for the new Town Hall, and the Band led a nomadic existence, utilising church halls and even the cinema for rehearsals, until 1969 when it became a tenant of one of the buildings on what was the towns army barracks at Pinefield.
In 2001, the Band decided to relocate to the new purpose built Moray Music Centre in Elgin. In 2007 the band had to leave the Music Centre and has rehearsed in various locations since then. It currently rehearses in Bishopmill Primary School every Wednesday evening.
The modern day Elgin City Band comprises more than thirty people from all walks of life, such as school pupils, students, teachers, doctors and retired people, with ages ranging from teenagers to retirement age.
Elgin City Band can be seen at concerts, fetes, church services and supermarket, Christmas, council and charity events, some of which bring in donations to allow the Band to remain self sufficient. It also takes part in concerts which have the specific purpose of promoting brass banding in this mainly pipe band and fiddle orientated area, as well as aiding recruitment and reminding the public of the existence of local brass bands.
Today, the Elgin City Band is still going strong and it hopes to do so for many years to come. Its members hope, however, that they will never again be called upon to sing as well as play, as they would have had they been part of Elgin City Band 150 years ago!